A note from Surface Worlds energy partner – LSI Energy
We hope that you and your families are well and that your operations are holding up during these trying times.LSI Energy have spent a large amount of time ensuring that our teams can work remotely and continue to deliver quality services to our clients. Please be assured that our staff will be available to assist business with their energy needs as normal.We are acutely aware of the impact the current COVID‐19 situation can pose and so wanted to offer some advice to businesses to hopefully take energy contracts off the list of concerns.
There are a number of key actions that your business can take to ensure things continue to run smoothly. Please feel free to contact Barrie Jacobs (01727 877 039 or barrie@lsienergy.com) who would be happy to assist and answer any questions.
Take-or-Pay clauses in your gas contract
Are you aware as to whether you have a Take-or-Pay clause in your current contract? – LSI can assist; if you can provide us a copy of your current contract we will do the leg work to find out whether you may fall in scope.
What is Take-or-Pay?
Every supplier has slightly different algorithms and processes for calculating fees associated to Take-or-Pay so we thought we would take the opportunity to provide a very simple overview – you can then contact Barrie Jacobs for further information.
Example situation;
If you signed a new 2-year energy contract in 2019, your energy supplier purchases the power for the March 2020 period in advance. They would have done this at the market rate in 2019 (higher than todays price). That energy is no longer being consumed by businesses due to the current commercial climate. The supplier needs to offload/re-allocate the cost of the energy. The problem is they can only re-sell the commodity in the current market and due to low prices the supplier may look to enforce clauses whereby the end user pays a penalty fee for not consuming the energy they were initially contracted to use.
Discuss payment issues and terms with your supplier as soon as possible
During these uncertain times it would be prudent to discuss with your supplier any payment issues. If you would like to investigate any payment plan options then Barrie Jacobs would be happy to assist where possible.
In addition if you do not have a SMART meter it would be best to provide regular meter readings to your supplier. If your supplier doesn't receive reads then they will calculate your future bills based on estimates. With the current situation across the country business energy consumption will fall and therefore you want this to be reflected in your bills.
Renew your electricity and gas contracts
If your energy contracts are due to end in 2020 you will need to run through the usual renewal process. LSI can assist by offering a free-of-charge health check of your current energy contracts and will take the strain in regards to finding your business the best prices moving forwards.
As you can see from the below market graphs, energy prices have fallen dramatically – making it a good time to lock in your next contract. This process will assist with budgeting moving forward when hopefully the business arena becomes more stable again.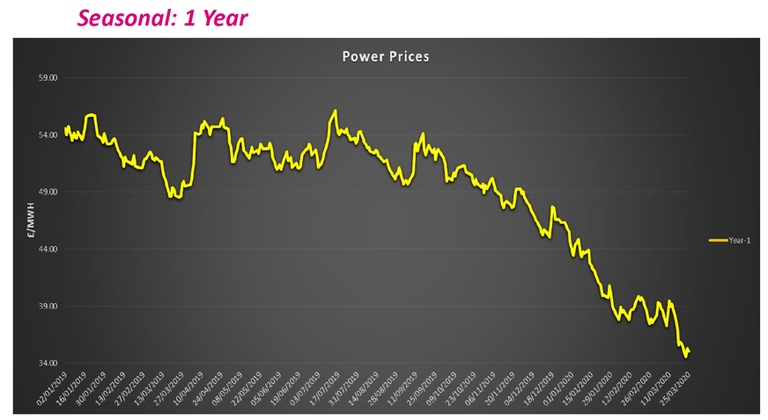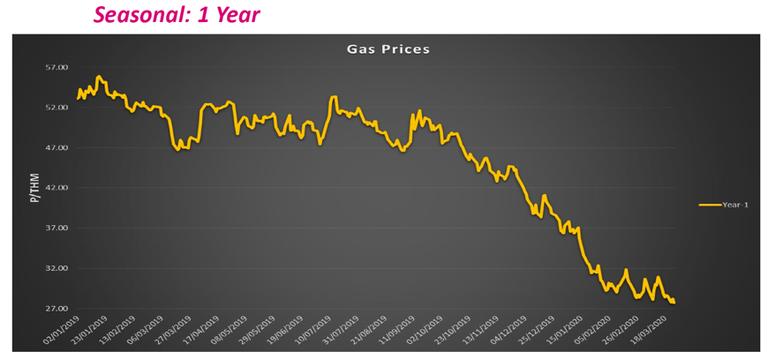 LSI are able to assist with all matters relating to your commercial energy expenditure, so please feel free to contact Barrie Jacobs to discuss the matter in more detail.
Barrie Jacobs
01727 877 039 / 07834 513490
Email: barrie@lsienergy.com